BIRD SEED HOUSE AND TOASTIES
This was probably one of his favorite EVER crafts! He talks about it every day and wants to go out and sit by it to watch and see if the bird will come. SO CUTE!
TOOLS
: Bird house, bird seed, peanut butter, paint (if you want),
tray/paper plates, spatula or basting brush.
Step 1: Paint (if you want)
We used Do-A-Dots so we didn't have to worry about drying time
Step 2 & 3: Paint & Pour
Paint top with Peanut Butter then pour on the seeds. To really get a lot on push the roof into the fallen seeds on the paper plate.
Step 4, 5 , 6 & 7 Cut, Toast, Paint, Roll
Cut bread into long slices then toast on high. Paint with PB then roll in birdseed
Visit link below for more SUPER FUN ideas for your tot!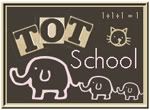 FOR MORE THEMED IDEAS CHECK OUT THESE LABELS:
THEME/SCHOOL BOX
- Our planned curriculum for the week
CRAFTivities
-Crafts and activities
FIELD TRIP
- Theme related outings in Orange County, CA