It's no secret in these parts that I have been working my dupah off LITERALLY for the past 6 months to lose weight and make some big changes in my life.
I heard about this weight loss challenge and I decided to go ahead and apply. Not expecting in the least to get picked. Seriously, I NEVER get picked for stuff! BUT I TOTALLY DID!!!!
I am now an Official Contestant on the
Flab to Fab Blogger Fitness Challenge
! HOLY COW!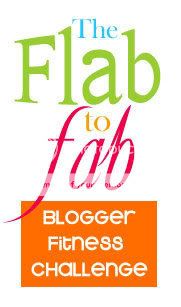 Now comes the hard part. The H-A-R-D part. Releasing ALL of my personal info for the world to see. Oh yes ladies, that means THE NUMBERS ON THE SCALE! MY MEASUREMENTS! THE BEFORE PHOTOS!!!
I will be competing with 7 other lovely ladies for an 8 week weight loss competition! After 6 months of hard work I started to get a little cozy on myself and this is just the right time to ramp it up again! No slacking for me, I can do this! I can reach my next goal!!!!
BUT I NEED YOUR HELP!!!!!!! I NEED YOUR SUPPORT!
Become a follower, leave comments of encouragement and support along my journey. This time I'm sharing every intimate detail for everyone to see!